eGauge Main Units
Energy Meter, Data Logger, Web Server
All eGauge main units can measure up to 12 circuits on up to 3-phases (120V−480V, 50−60Hz) and include a data logger as well as a built-in web server. Choose a device based on your network connectivity availability.
---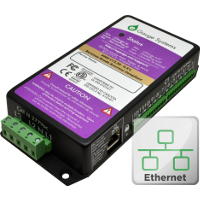 A hard-wired network connection is the most reliable and is the choice for most commercial and industrial applications. A standard RJ45 connection is used for the EG3000 to communicate.
Preferred by most for its ability to broadcast a data signal over the existing electrical wiring in a residence or small commercial space, this "power-line communication" unit can reduce cost by eliminating time spent running new wires. NOTE: The EG3010 requires a HomePlug adapter (not included) to communicate over powerlines.