"eGauges provide the data on which most departmental initiatives, capital projects, and retro-commissioning programs are based. Our strategy for electricity savings and our behavioral engagement programs are entirely dependent on leveraging the real-time data that eGauges provide."

- Hal Corin CEM, MBA
Energy Manager
Summary
Managing the energy of the second largest school district in Colorado, Jefferson County (Jeffco), is a difficult task. Energy management in Jeffco now has insight into fluctuating energy habits by students and faculty and the impact of efficiency upgrades. At Little Elementary in Jeffco, students were able to observe the electrical load of their school decrease as they began delamping overlit areas of the school. Visualization of real-time metering helped students and staff to tangibly understand the impact that their delamping effort had on the school's electricity usage. The delamping occurred over a three day period and resulted in a 20kW reduction (or downward shift) on the daily load curve.
Estimated:
Peak Reduction: 20 kW
Energy per Year: 26,250 kWh
Annual Savings Projection: $1675
The Problem
Most spaces in schools are overlit based on the recommended illuminance (light levels) published in The Lighting Handbook 10th Edition. In preparation for an energy saving competition among Jeffco schools, the students and staff at Little Elementary School were looking for ways to save energy and decided to "delamp" fluorescent light fixtures in the overlit areas of the school as a means of conserving electricity and improving the learning environment. Some stakeholders were skeptical that delamping would save electricity – per the image below, Little's eGauge has definitively ended that discussion in Jeffco.
The Solution
Delamping at Little Elementary School was a team effort. Students went from space to space with light meters to measure illuminance (brightness). These measurements were compared to a chart that showed the average recommended illuminance for every space in the school. If spaces had higher than the recommended illuminance from the four-lamp fluorescent fixtures, the students would ask the facility manager or a staff member to remove a four foot 32 W lamp from some or all luminaires in the space.
Results
The three day delamping process reduced lighting load by about 20kW which will lead to around 26,250 kWh saved annually! Throughout the delamping process, students and staff were able to watch the electric load decrease in real-time on their eGauge meter. The data on the eGauge exhibits how a simple, low-cost measure can lead to thousands of dollars of savings in electricity costs. The delamping at Little not only contributed to their victory in this competition, but returned classrooms and other spaces to their intended lighting level while providing tangible evidence for other schools of the potential impact that a low-cost delamping effort can have.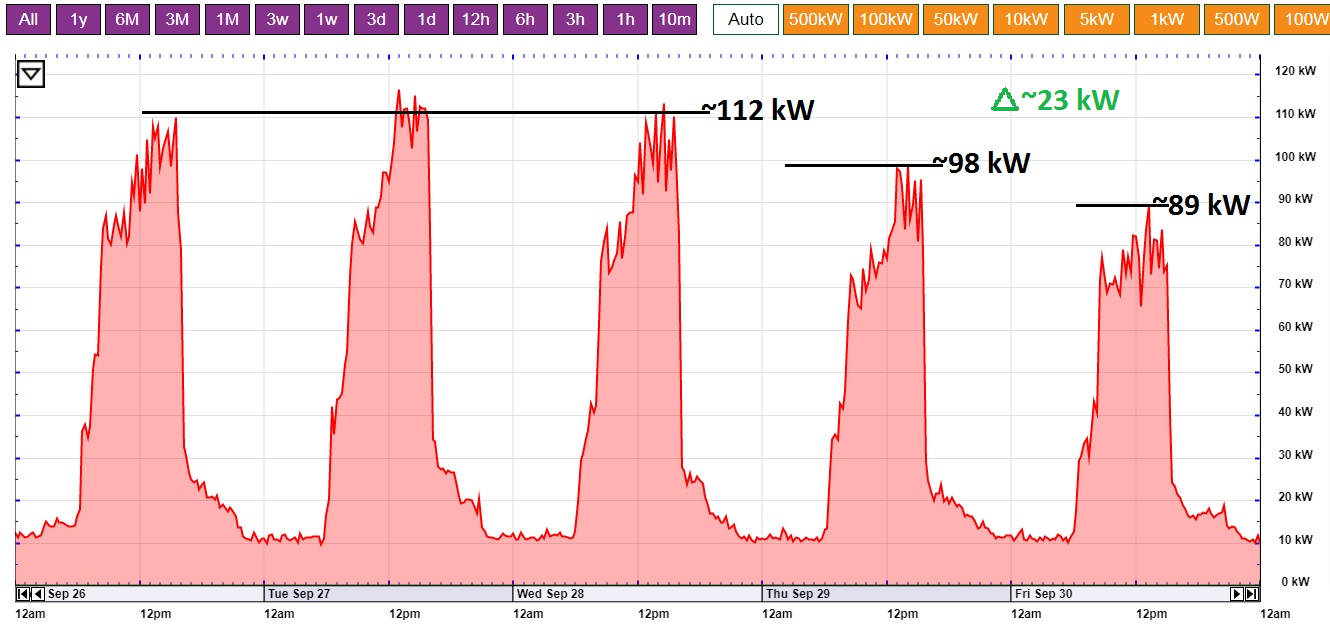 The eGauge online user interface graph above shows the daily energy profile for the week that delamping occurred. Efforts began on Wednesday, were continued Thursday, and completed on Friday. The total reduction brought about a downward shift in electrical load of around 20 kW.