"The Facility Manager noticed the higher usage, notified Energy Management, and within a few days the malfunction was fixed. Without this eGauge and the attentiveness of North Arvada's Facility Manager, this anomaly could have gone unnoticed and resulted in increased electricity usage, costs, and wear on this expensive and critical piece of equipment."
- Hal Corin CEM, MBA
Energy Manager
Summary
Facility managers (FMs) know all too well that equipment can fail at any moment. At North Arvada Middle School (NAMS), in Jefferson County Public Schools (Jeffco), the second largest school district in Colorado, Jason Walling the facility manager noticed one such malfunction first hand. Jason noticed an upward shift in usage present at all times when looking at the website of NAMS' newly installed eGauge energy meter. Jason quickly notified Energy Management at Jeffco. Working together with Jeffco Maintenance, it was quickly determined a controller went offline causing the chiller (the largest piece of equipment in the school) to run continuously.
The Problem
The information available on electricity bills, total monthly consumption and peak electricity demand, give facilities personnel limited insight into anomalies in building electricity usage. Large and small equipment malfunctions can go unnoticed while having a significant impact on monthly and yearly electric utility costs. With the data available on electricity bills, shifts in usage are challenging and time consuming to identify. Furthermore, understanding when anomalies occur and the kW magnitude (power draw) of the malfunction is crucial to understanding the extent of the problem, in many cases without live monitoring, building owners are left paying more for electricity and ignorant of the cause or even that a malfunction is present.
The Solution
As part of Jeffco's efforts to have all district buildings equipped with live electricity monitoring by Fall of 2019, NAMS' eGauge was installed in early August 2016. Just after installation, students and staff at NAMS were preparing to work with their eGauge for an upcoming district-run energy saving competition among Jeffco schools that Fall. Jason noticed that the building was no longer achieving its nightly shutdown to around 35 kW and was instead hovering ~127 kW (see image below), once he notified Energy Management and the malfunction was diagnosed, immediate action was taken to prevent further waste of electricity and harm to the chiller. This level of engagement and attentiveness from students and staff is the ultimate goal of Jeffco's district-wide deployment of live energy monitoring. It's tough to know what is happening in every building at all times, having eGauges in our buildings enable each school community to see how much energy is used, what is happening in their building, to ask questions, and to identify problems.
Results
From awareness to resolution, the issue lasted only 7 days. Access to real-time graphical energy data allowed staff to understand and address the problem quickly and to avoid ~1,240 kWh (~$55) from being wasted each day.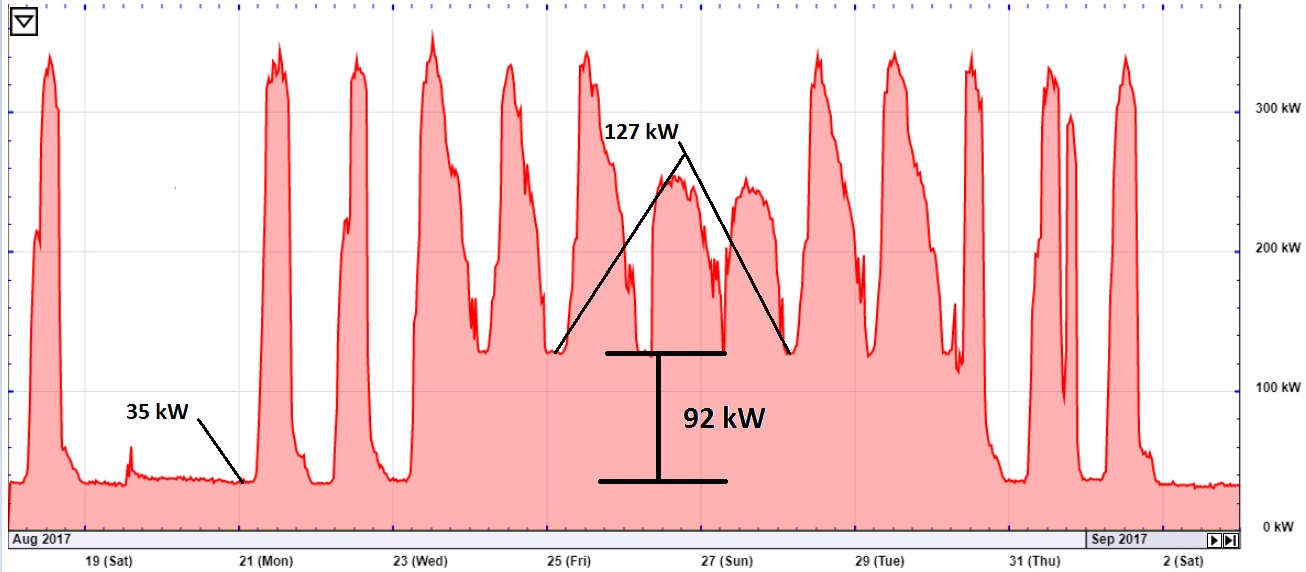 The eGauge online user interface graph above shows the energy profile at North Arvada Middle Schools for fifteen days including the eight days during which the chiller was running continuously. The malfunction resulted in an increase in minimum load of 92 kW for a full week.