In our last post, we talked about the risks using a meat freezer. The key point was that freezers can fail, and meat freezers may contain hundreds of dollars worth of food. So how can you prevent losing all of this food and money? One way is to add an alert to your eGauge! Alerts can be set to trigger for many reasons, but if you want one to alert you when a freezer fails, you can use something like this:
First, go to your eGauge user interface (e.g., eGauge54321.egaug.es). From there, click on Settings (upper right) → Alerts (left side). You can program two main things on this screen, 1) when to trigger an energy alert, 2) where you would like alerts sent (email address or text message).
Let's start by setting an alert for when your freezer fails. First, find out how much energy the circuit powering the freezer uses in a 24 hour period. You can do this by going to the user interface, clicking the purple "1d" button, hovering over the graph with your cursor, and holding CTRL while left-clicking and dragging across the whole graph.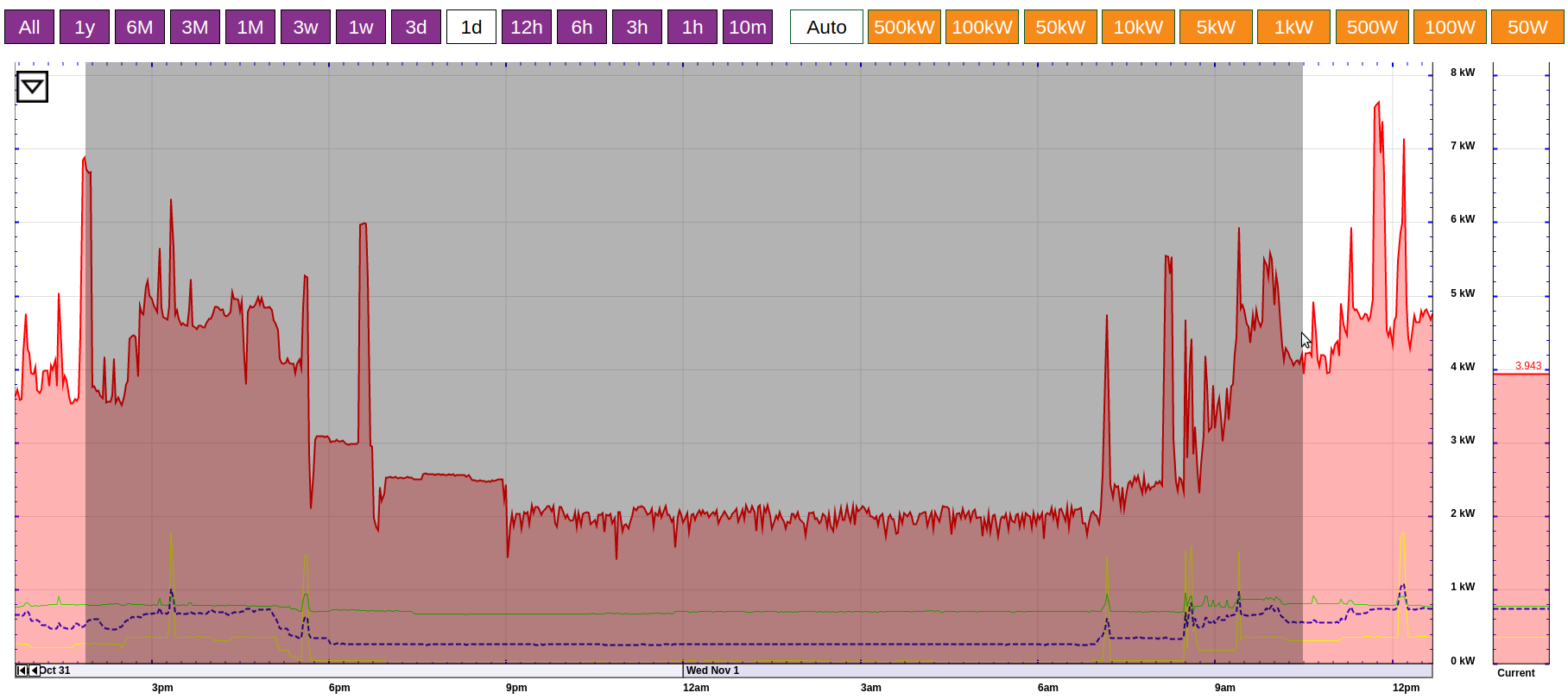 When you've selected the whole graph, release the mouse button and a new window will open with an energy summary for that time period. Find the name of the circuit that powers your freezer and look for the "Time-weighted" kWh value. Now, substitute that circuit name and kWH value in their respective place in this formula:

Plain text formula and message: Formula: abs(avg("CIRCUIT_NAME", 60*24)/1000)*24 < NORMAL_FREEZER_24HR_KWH Message: The freezer may be failing! Past 24 hour energy consumption at %I kWh, less than %r kWh!
Here, you'll also want to name your alert, set the alert priority ("Prio") to "7", set the "Chk Freq" to Hourly, and input the message you'd like to receive when the alert is triggered. We suggest using the message in the image above, which will tell you how much less power the freezer circuit has used compared to average.
Now, let's configure how you'll receive this alert. Click on View/Edit Gateway & Alert Destinations. If you'd like to receive email alerts, please read pages 2 and 3 of this tutorial: Alerts Tutorial Article. If you'd like text alerts (recommended), got to the section titled Alert Destinations on the alerts page, use the drop-down menu to set the "Message Format" to match your cell phone provider, enter your phone number without dashes, and select a "Min Alert Priority" of 1.
You're almost done! Just click "Save" at the bottom of the page and enter your username and password (the default is: owner/default) when prompted. Now you have an alert to check your freezer circuit for changes from the average once every hour and then send you a text message if that occurs!
For more information on alerts, checkout the full tutorial here: Tutorial Article 5: Alerts