JavaScript is disabled. Please enable JavaScript for proper store functionality.
Devices
A hard-wired network connection is the most reliable and is the choice for most commercial and industrial applications. A standard RJ45 connection is used for the EG3000 to communicate.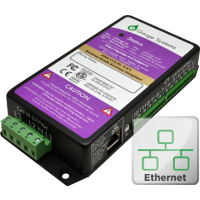 Preferred by most for its ability to broadcast a data signal over the existing electrical wiring in a residence or small commercial space, this "power-line communication" unit can reduce cost by eliminating time spent running new wires. NOTE: The EG3010 requires a HomePlug adapter (not included) to communicate over powerlines.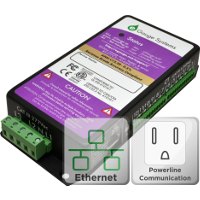 Current Transformers
J&D Electronics Split-core
Split-core CTs from J&D Sensing offer a well constructed hinged body and are accurate to +/-1% from 1%-100% of their stated current rating. The small interval for physical size options (10mm/0.39", 24mm/0.94", and 36mm/1.42") allow for a flexible installation. Each CT size has a hinge and clipping mechanism, making it easy to close the CT in tight situations.
Rope CTs are excellent for bus-bars and large switch-gear applications. Self-powered rope CTs are flexible and easy to install with a fixed current rating of 2775A and will not be accurate below 30A. Note: Ropes sold before June 13, 2014 come with an individual and unique calibration sticker that must be saved in the Settings→Installation menu on the eGauge device. Newer ropes without a calibration sticker should leave the calibration value set to 0. Each CT includes the two-pin CT connector plug.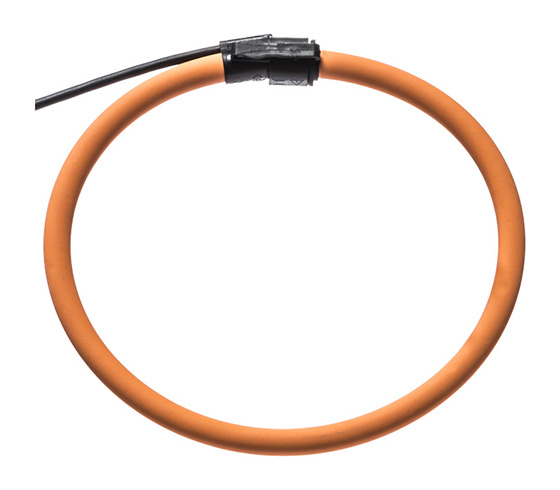 Large (50.8mm/2.00" and 76.2mm/3.00") split-core current transformers (CTs) allow for easy measurement of individual conductors within an electrical distribution panel. Each CT can be "split" and attached without disconnecting a conductor from it's respective breaker. These CTs are available in a wide variety of amperage ratings. Each CT includes the two-pin CT connector plug.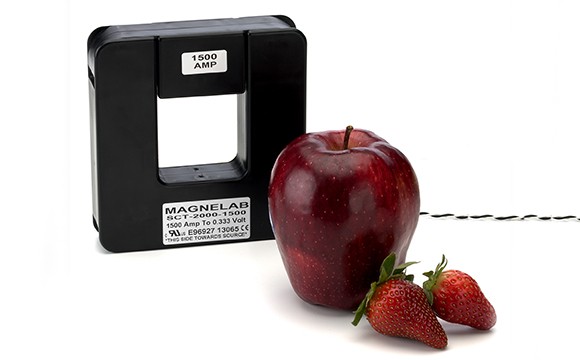 The Accu-CT revenue grade, split-core current transformer offers outstanding linearity and very low phase angle error with easy one-handed opening and closing, even wearing gloves. The standard Accu-CT meets IEEE C57.13 class 1.2 and when ordered option C0.6 it meets class 0.6 accuracy standards. Each CT includes the two-pin CT connector plug.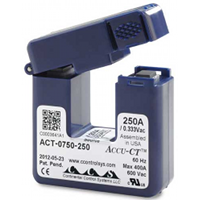 CR Magnetics Solid-core DC
A current transformer for those focused on high efficiency DC consumption sources, solid-core DC CTs are typically used for new wiring and permanent installation. To install them, the power must be turned off, the conductor disconnected, and then threaded through the CT window. Each CT includes the two-pin CT connector plug.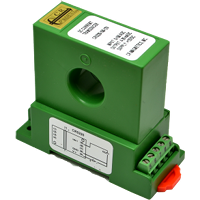 Accessories
3 Year Warranty Extension
Three year extended warranty for the eGauge Main unit. Brings total warranty period to five years (see eGauge warranty agreement).
The HomePlug power-line communication adapter easily connects the EG3010 to a local network using the structure's existing electrical wiring. Great for residential and small commercial installations. Not for use with older eGauge2 units.
10x8x4 polycarbonate enclosure, hinged and lockable lid, DIN rail and mounting kit included.
The Powered Enclosure Kit is designed for installation of the eGauge in combination with one of several communication protocol devices. The kit comes with components that complement the eGauge main unit, decreasing installation time and reducing complexity. Compatible services: 3ph/4w, 120/208vac and 1ph/3w,120/240vac.

Powered Enclosure Kit (shipped unassembled): (1) 12"x10"x4" polycarbonate enclosure, hinged, lockable, (2) DIN rail lengths, (1) DIN rail mountable, (1)120vac receptacle, (1) Power distribution block, (1) Wire set
Power-whip (3-phase, 277 Vrms)
Provide a faster installation with this pre-assembled 3-phase power connector. Easily connect to any single or 3-phase breaker. Follows a US coloring scheme where N - White, L1 - Black, L2 - Red, L3 - Blue.
Test Power Cable - 120 Vrms
eGauge power cable with standard type 5 plug. Epoxy sealed for safe operation. Useful for in-office testing, preliminary configuration, and off-site data exportation. Not to be used for permanent installations.
The TP-Link WiFi access point provides direct access to wireless networks straight from the powered enclosure kit and is 802.11 2.4Ghz b/g/n compatible. The access point can be easily mounted to the inside of the enclosure with a heavy-duty velcro strip (included). The TP-Link can also be replaced with your preferred WiFi access point. Includes: (1) WiFi access point, (1) Antenna, (1) Antenna extension cable, (1) Ethernet cable, (1) power supply, (1) Velcro mounting strip.
BF-430 RS-485 to Ethernet Converter
Convert RS-485 serial communication from approved third-party devices to Ethernet for integration as a "remote register" on the eGauge configuration page. Please read the Third-party page section before ordering. Power supply sold separately.
Can be used to power BF-430 or DC CT.
DIN rail mounting kit for the eGauge main unit. Clip the eGauge main unit onto an existing DIN rail for a clean installation.
Extra 2-pin CT plug for use with other, eGauge approved, 0.333 Vrms output CTs. Can be used to replace existing CT plugs that have experienced significant wear.
Voltage terminal connection block.
This product is only to be used with an eGauge2 device. **NOT COMPATIBLE WITH THE EG3010.**